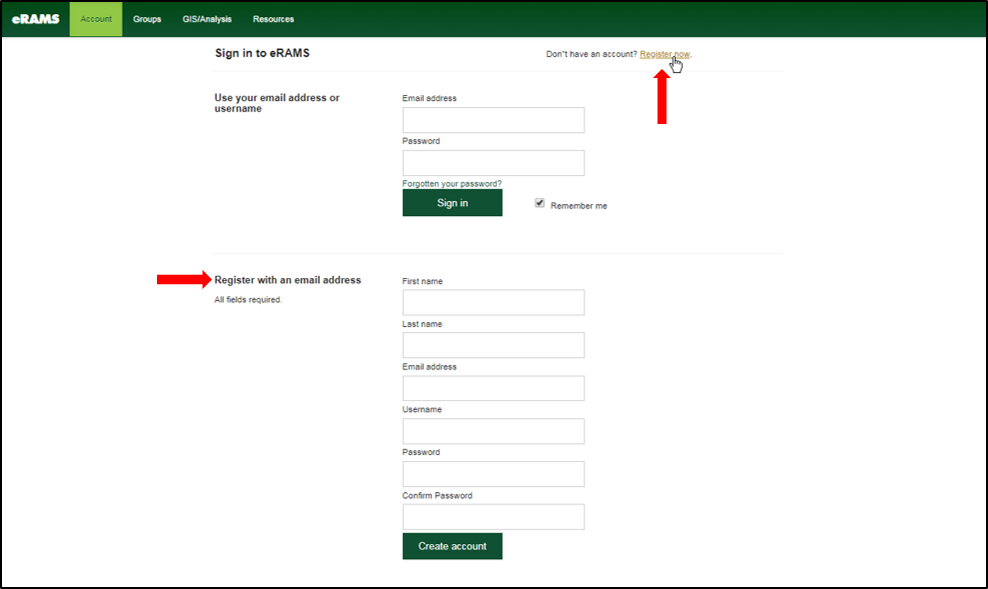 Thank you for choosing Catena Analytics and the Environmental Resource Assessment and Management System (eRAMS) platform to meet your data, modeling, analysis and geospatial needs.  Review the materials below to create an eRAMS account and get started on your own projects in just a few easy steps! 
If you'd like to create and save a project, share it with collaborators or revisit your analysis, an account is required.  Follow the instructions below to create your free account and get started using eRAMS.
Create an Account
Follow the instructions below to create your free account and save your projects or visit our website to get started: https://erams.com/account/
From the eRAMS Registration page, select "Register Now" from the top menu and enter a username, password, your first and last name, and your email address. Click "Create Account".

eRAMS will display a popup box alerting you that an email confirmation has been sent to the provided email address

Open the email account provided in the registration form from either a new browser window or from your local email application.

Search for an email from eRAMS with the subject line "eRAMS Email Check"

Open this email and click on the provided link to confirm your email address.

Note: If you do not see the confirmation email appear in your email inbox immediately, check your spam or junk email folder to ensure that the confirmation message wasn't automatically discarded. You may also need to wait a few moments to ensure the email is delivered successfully.

Once you click on the provided email link, you should be redirected to eRAMS, where you'll be automatically logged in
Create a Project
Registered eRAMS users can save projects, share them with collaborators or revisit their analysis at any time.  We strongly recommend creating a free account so you can access all that eRAMS has to offer. Follow these instructions to create a new project or access existing analyses:
Login to your eRAMS account here: https://erams.com/account/
Select the "Projects" tab from the left panel
Select "Create Project" from the top toolbar

Alternatively, select an existing project from the list to access previously saved work

Enter a Project Name
Select the preferred tool or analysis from the Project Type drop down

Optional: Select layers from previously saved project under the "Include Layers from Project" drop down

Click "OK"
Locate the name of the project you have created in the project list, click the link

The link will redirect you to the interface where you can conduct analysis and save your work to your account
Public Access
Many of our tools can be accessed without registering an eRAMS account.  However, in the public-facing version the data and analysis will only be available for the duration of the browser session.  Once the browser is closed the project will no longer be available (i.e. users cannot save their work or share their project).