Building the Future
The Interdisciplinary Training, Education and Research in Food-Energy-Water Systems (InTERFEWS) Program brings together PhD students from traditionally disparate disciplines to conduct research on key problems in the Food-Energy-Water (FEW) nexus with a focus on water-scarce, arid regions. 
Our mission is to prepare a diverse cohort of graduate students with the transdisciplinary and systems-level thinking skills necessary to make meaningful contributions to the complex and changing interactions in FEWS under water scarcity.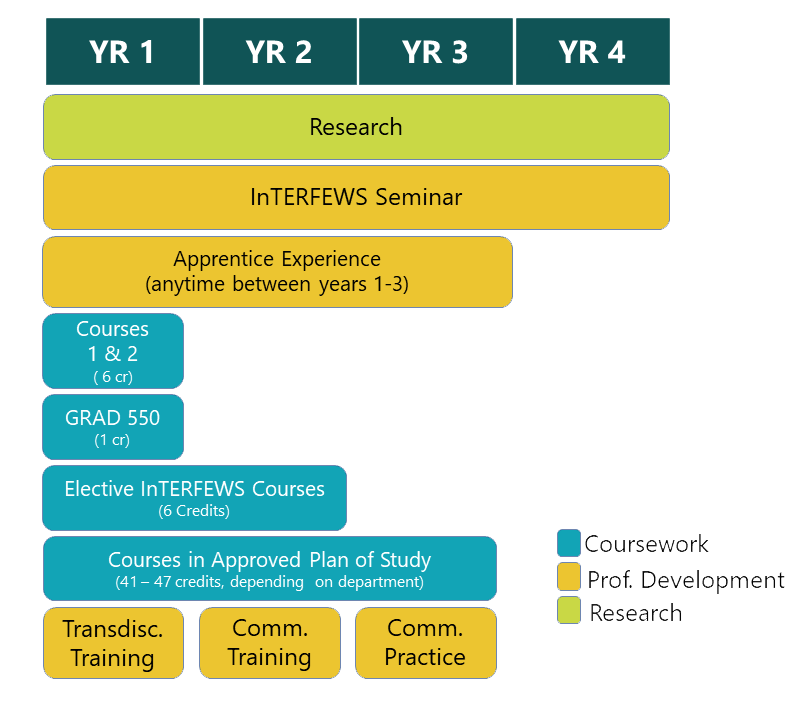 The InTERFEWS program was designed to equip students with 21st century career skills, preparing graduates to solve complex problems. The program includes four components to achieve this goal:
Curriculum
Two newly developed InTERFEWS courses as well as elective courses that specifically address FEWS issues.
Activities are focused on sustainable technological, infrastructural, policy, and institutional FEWS innovations.
Professional Skills
InTERFEWS equips students with 21st  century professional skills and networks to solve complex FEWS issues in a changing world.
Opportunities to apprentice on FEW topics organized through partnerships with industry, government agencies and NGOs.
The Trainee Handbook is a working document that contains information on the four programmatic components to help guide Trainees. View the most recent version of the handbook through the link below.