InTERFEWS brings together PhD students from traditionally disparate disciplines to conduct research on key problems in the FEW nexus with a focus on water-scarce, arid regions.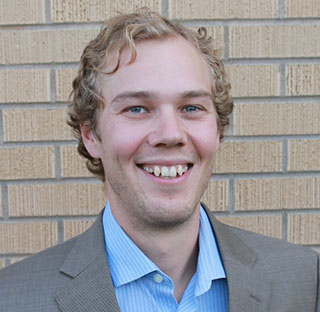 Benjamin Choat
Civil & Environmental Engineering
Bio
Ben is focusing on Hydrologic Science and Engineering while pursuing his PhD in the Department of Civil and Environmental Engineering at CSU. He transitioned into his doctoral program in January of 2019 as he finished the research component of his MS, and became part of the first cohort of the InTERFEWS program in Fall 2019. Ben is interested in understanding how water connects what are often thought of as disparate systems such as urban water systems, ecosystems, and agricultural systems. He believes that by viewing human activity within the context of natural cycles (e.g., water and nutrient cycles) we can manage our natural resources to sustain healthy societies for generations to come.
Research
Urban Irrigation and Stormwater Management Effects on Agricultural Income
In water scarce river basins where new water supply is difficult if not impossible to come by, it is of utmost importance to get the maximum value out of each drop. At the basin scale, upstream groundwater recharge and return flows alter timing and availability of valuable water for downstream users. Understanding how growing populations, changing climates, and alternative water management approaches will affect recharge and return flow is critical to optimizing basin-wide water management. In the water scarce South Platte River Basin (SPRB) agricultural irrigators rely on a water supply which may be heavily impacted by upstream municipal water management. This project seeks to understand how varying approaches to three urban water practices in the SPRB will alter downstream water availability and income for agricultural irrigators; more efficient lawn watering, increased stormwater infiltration, and increased stormwater harvesting.
It will become increasingly difficult to meet water demands as populations grow, especially in water scarce regions. Recent trends in such regions show agriculture going out of production so urban water demands can be met. Maintaining rural economies and national food security while meeting the needs of urban populations requires conjunctive management of urban and rural water resources. In a time when a clear cultural divide between urban and rural populations is expanding, water management must pierce that divide to meet basin goals. We must better understand how urban, suburban, and peri-urban water management affects rural dwellers to ensure all stakeholders are prioritized. With the growing need for rural-urban conjunctive water management, Ben will explicitly connect urban water practices with rural income. Elucidating such connections will be of increasing importance as population and water demand grows.
Advisors:
Aditi Bhaskar (Civil & Environmental Engineering; PhD Advisor)
Stephanie Kampf (Ecosystem Science & Sustainability)
Dale Manning (Agricultural & Resource Economics)
InTERFEWS Mentor: Sybil Sharvelle (Civil & Environmental Engineering)
Interdisciplinary Aspects
This project integrates urban water management and policy, hydrologic analysis, water law, economics, and agricultural and environmental effects of changes in streamflow.
Systems Perspective
The South Platte River Basin is a hydro-economic system where management changes upstream flow to affect water availability downstream. We will evaluate the effects of urban water management on streamflow, and then translate that flow change to an economic value for agricultural producers downstream.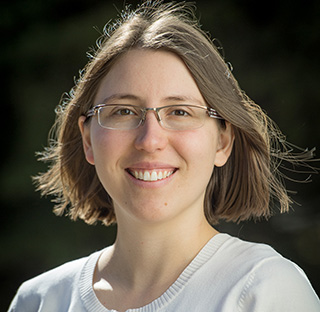 Kimberley Corwin
Atmospheric Science
Bio
Kimberley began pursuing a PhD in the Department of Atmospheric Science and joined the InTERFEWS program in Fall 2020 (cohort 2). Her research focuses on how wildfire smoke impacts incoming solar radiation and, in turn, our food system. Her broader interests are in atmospheric chemistry and aerosol research with a focus on combining in-situ, remotely sensed, and human systems data to better understand the impacts of climate change and human activities. She also has a strong interest in promoting women and girls in STEM and environmental and climate justice issues. Kimberley has a M.S. in Geology from Boise State University and a B.A. in Geosciences and Medieval/Renaissance Studies from Wellesley College.
Research
Fires to Farms: How does wildfire smoke driven changes in radiation impact crops?
Human-caused climate change, natural climate variability, and a legacy of wildfire suppression all contribute to variability in western U.S. wildfire activity. While communities within or near wildland-urban interfaces experience the most devastating effects of wildfires, smoke can impact communities far downwind. Forest fires are a large source of atmospheric particulate matter (PM), also called aerosols, which are transported thousands of kilometers in the atmosphere. Studies suggest that the scattering of visible light by aerosols, including transported smoke, may impact crop productivity, and therefore food production capacity, through changes to crop radiation use efficiency (RUE). However, the magnitude and sign of this effect remain uncertain. The impact of interactions between these smoke-induced effects and other climate-related stressors (e.g., water availability and extreme weather) on crop yields are also not understood.
By drawing together atmospheric, agricultural, and economic data, we will determine how wildfire smoke impacts U.S. food production. Specifically, we will integrate remote sensing smoke datasets from the National Oceanic and Atmospheric Administration (NOAA) with surface-based solar radiation measurements from the U.S. Department of Agriculture (USDA) UV-B Monitoring and Research Program to determine how smoke contributes to observed temporal and spatial variability in visible radiation reaching the surface. We will then integrate these results with county-level yield data from the USDA Farm Service Agency to determine how this variability impacts crop yields and wages via modifications to crop RUE in the Midwest and Western U.S. By evaluating yields and wages, we will estimate the indirect impacts of smoke on rural economies, an important contribution to the economic literature. We hypothesize that smoke-induced changes to solar radiation may contribute to variability in crop yields, which may have severe economic consequences and become an even larger issue in a warmer world with increased forest fire activity. Potential interactions and feedbacks between smoke-induced changes to solar radiation and other climate stressors will also be explored. This work will inform future analyses of the impacts of climate change on food production.
Advisors:
Emily Fischer (Atmospheric Science)
Chelsea Corr-Limoges (Department of Biology/Chemistry, Springfield College)
Raj Khosla (Department of Agronomy, Kansas State University)
Jesse Burkhardt (Agricultural & Resource Economics)
InTERFEWS Mentor: Rich Conant (Ecosystem Science and Sustainability)
Interdisciplinary Aspects
Fires to Farms will combine expertise, analysis techniques, and datasets from atmospheric chemistry, radiation, economics, and agricultural sciences to determine how wildfire smoke impacts the U.S. food system. We will integrate remote sensing data on smoke plumes, in-situ measurements of surface radiation levels, and agricultural crop yield records to better understand the connections between these systems.
Systems Perspective
Investigating the impacts of smoke on agriculture requires a holistic perspective on human and natural systems and their interactions. Diverse expertise, datasets, and analysis approaches across several disciplines will be used to address this understudied aspect of the biological impact of climate change on agriculture. .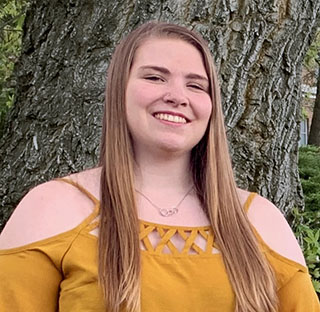 Brandi Grauberger
Mechanical Engineering
Bio
Brandi is pursuing a PhD in the Department of Mechanical Engineering at Colorado State University and started in the InTERFEWS program Fall 2020 (cohort 2). She began her PhD pathway in Fall 2019, in tandem with her final year of undergraduate studies in Mechanical Engineering at CSU. Brandi's research is focused on thermally activated water treatment systems, specifically for sustainable treatment of produced water in the oil and natural gas industry with the goal of discharge or direct use in agricultural water systems. Her research interests include food-energy-water systems, thermal energy utilization, and economic evaluation and practical commercialization of technologies. Brandi also believes that education of the public on the food-energy-water nexus is an important part of her research objectives. 
Kim Fewless
Civil & Environmental Engineering
Bio
Kim started in the InTERFEWS program (cohort 1) as a Civil and Environmental Engineering PhD candidate in Fall of 2019. Her master's degree thesis analyzed the feasibility of decentralized wastewater treatment systems with nutrient recovery and water reuse. After a year of PhD research in atmospheric science (studying climate change and drought), she decided to return to engineering. Her current research interests include urban sustainability and resilience (technical, social, and institutional aspects), food-energy-water systems, environmental/climate justice, and applying systems analysis to engineering design. She is also an accomplished cellist (her first degree was in cello performance).
Research
Connecting energy services to energy, mass, and nutrient flows on rural farmsteads
Farmsteads in rural areas of underdeveloped regions are often in a state of energy poverty; meaning that people rely upon inefficient, polluting cookstoves and lack sufficient access to reliable and affordable energy. Many solutions to energy poverty aim to replace existing technologies without considering the context and services that connect energy to the farmstead "system". In addition, physical flows of energy and mass on farmsteads are complex and intertwined, and are poorly represented in environmental simulations. Where food-energy-water systems analyses do incorporate this complexity, connections are lacking in regards to (i) the farmstead's own energy needs and their influence on flows of mass and nutrients, and (ii) flows of byproducts to the atmosphere via combustion. Therefore, in an effort to enable a systems level platform of transferable knowledge, we will develop a tool, called a farmstead energy balance, that will inform decision making through quantification of energy flows in a representative farmstead.
The energy balance will provide a complete statistical account of inputs and flows (which may be perceived as mass, energy, or nutrients) for a representative farmstead in an effort to connect services to fuels and technologies. Iterations of the balance will incorporate specific regional characteristics and results can be used for local and regional comparative analysis. It may also provide a means for "bottom up" emissions quantification. Finally, there is potential to incorporate connections between energy services and human well-being and synergies and tradeoffs across the food-energy-water (FEW) nexus. In the face of climate change and rapid urbanization, methods for illustrating evolving needs, resources, environmental impacts, and systems connectivity is keenly relevant.
Advisor: Tami Bond (Mechanical Engineering)
InTERFEWS Mentor: Sybil Sharvelle (Civil & Environmental Engineering)
Interdisciplinary Aspects
Inter- and transdisciplinary collaboration will be key to sufficiently assess energy service provision in the context of specific regions. Engineering (FEW systems connections, energy fuel/technology), economics, environmental justice, patterns of human behavior, and methods of governance and resource management all factor into addressing energy poverty.
Systems Perspective
In regions of energy poverty there may be opportunity to find synergies that enhance food, water, and energy security. Using a systems level analysis may inform resiliency and adaptive management by identifying key "nodes" that inform effective response or future research.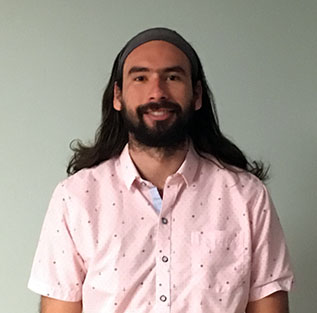 Jorge Luis Rico Reyes
Civil & Environmental Engineering
Bio
Jorge is a PhD candidate in the Department of Civil and Environmental Engineering, which he began in fall 2019. Jorge also became part of the first cohort of the InTERFEWS program in Fall 2019. He has a B.S. in Chemical Engineering from the Industrial University of Santander (Colombia), and an M.S. in Civil and Environmental Engineering from Colorado State University. His areas of focus are environmental biotechnology, organic waste valorization, and food-energy-water systems. His research interests include anaerobic digestion, composting, microbiome engineering, systems analysis, social movements, and environmental justice.
Research
Anaerobic Treatment of Organic Wastes for Resource Recovery
Overproduction and underutilization of organic waste is a current global challenge. Organic waste materials such as municipal fraction organic waste (e.g. food waste and yard waste), food processing wastewater, and manure from animal feeding operations, can be treated for composting or to produce energy in the form of methane biogas. However, in spite of the added value opportunities of these waste-derived products, most organic residues are not utilized and end up in landfills (more than 50% of total landfilled waste is organic biomass). Underutilization of organic waste is due to the current focus of waste treatment procedures on only meeting environmental waste management regulations, and the limited economic viability of current organic waste treatment technologies. Incentives for waste valorization to stakeholders, therefore, could promote the appropriate beneficial use of organic residues avoiding landfill accumulation. However, improving economics could potentially drive adoption without incentives.
An emerging approach for the valorization of organic residues is the production of organic acids. Organic acids can be upgraded into energy pipeline chemicals or biochemicals with versatile uses in several markets including fuels, pharmaceuticals, food preservatives among others. The economic value of organic acids is higher than methane biogas and compost, which leads to more favorable economics for the overall process. Little is understood about the systems-level impacts of recovering methane versus more financially valuable organic acids. Uncertainty in whether to focus on technology development on methane or organic acid production is currently inhibiting advancement in the field. Further, tradeoffs exist between the generation of different products from organic waste material.
This project aims to develop resource recovery technologies from organic residues and assess tradeoffs between recovery of different products in the context of the food-energy-water nexus (FEWS). Jorge will design and conduct experiments to optimize organic acid production from different organic waste sources. He will use technological development insights to understand systems-level considerations for the different resource recovery products. This research can inform high-level policy decisions that impact research and development of anaerobic technology for resource recovery.
Advisor: Susan De Long (Civil & Environmental Engineering)
InTERFEWS Mentors:
Kenneth Reardon (Chemical & Biological Engineering)
Sybil Sharvelle (Civil & Environmental Engineering)
Interdisciplinary Aspects
Technological development integrated with the development of system-level models to assess tradeoffs. Economics and policy are deeply embedded in this project.
Systems Perspective
This project includes systems-level analysis of the impacts of resource recovery products from organic waste material to broadly assess FEWS impacts and carbon footprint.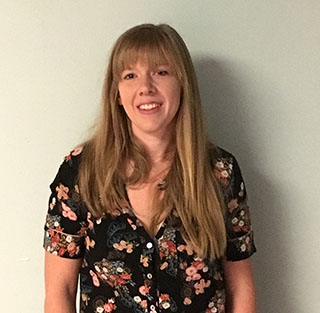 Lisa Eash
Soil & Crop Sciences
Bio
Lisa started her PhD program in the Department of Soil and Crop Sciences in January 2019, and became part of the first cohort of the InTERFEWS program in Fall 2019. Her broad research focus involves applying ecological principles to increase efficiency and productivity of agricultural systems. Her current research investigates the impact of cover crops on soil health and cash crop productivity in dryland agroecosystems on the Colorado Plateau. Previously, she worked in smallholder maize and bean systems in Central America, working to identify limitations to production that could be addressed by local development efforts. She is passionate about using a participatory approach in her research to ensure that findings can be directly applied to improve issues facing local farmers.
Research
Exploring the Viability of Cover Crops on the Colorado Plateau
On the semi-arid Colorado Plateau, dryland farmers are challenged by severely degraded soils and low and increasingly unreliable precipitation. Cover crops have been shown to improve soil fertility and mitigate soil erosion, but are associated with increased water demands, a cost that could mean decreased productivity in the short-term for farmers. Cover crop impacts are well understood in wetter climates, but water use and cash crop productivity trade-offs have not yet been fully understood in semi-arid regions. This project seeks to assess the viability of cover crops as a solution to soil degradation and erosion on the Colorado Plateau by quantifying soil health benefits and costs in terms of water dynamics and agricultural productivity.
This project will build upon existing research plots to explore the medium-term impacts of cover crops on soil health metrics (microbial community, nutrient retention, soil structure), water dynamics (soil moisture, infiltration rate) and agronomic and economic impacts (cash crop yields, overall profitability). On-farm research plots will be included to assess these impacts across a range of cropping systems and management practices. This project employs a participatory approach and involves the input of various local stakeholders, including conservation districts and participating farmers, to best assess the potential of cover crops to contribute to soil and health and the longevity and profitability of dryland farming in the region.
Advisor: Steve Fonte (Soil & Crop Sciences)
InTERFEWS Mentor: Meagan Schipanski (Soil & Crop Sciences)
Interdisciplinary Aspects
The project is interdisciplinary in nature as it will quantify the medium-term impact of cover crops on agronomic and ecological metrics, while also focusing on risks to producers associated with cover crop adoption and overall profitability of the cropping system.
Systems Perspective
To assess the viability of cover crops on the Colorado Plateau, it is essential to consider the impacts the farming context as a whole. A systems approach will be utilized to analyze impacts that extend beyond soil health and agronomic indicators to the farm and community scale.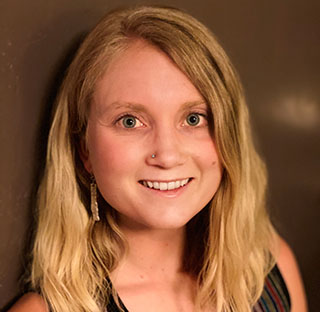 Elizabeth Ellis
Soil & Crop Sciences
Bio
Ellie began her PhD in the Department of Soil and Crop Sciences and joined the InTERFEWS program (cohort 2) in the fall of 2020. Her research will investigate regenerative agriculture's potential to sequester carbon and build landscape resilience in the face of climate change. Her research will focus on the Northern Great Plains agricultural region, including indigenous lands. She has a background in science communication, science art, and wilderness therapy which she plans to integrate into her research endeavors. Ellie has a B.A. in Geology and Environmental Analysis from Pitzer College and was a recipient of the Thomas J. Watson fellowship.
Research
Can regenerative agriculture increase agroecosystem resilience, sequester carbon and sustainably produce food and fiber?
Impacts of regenerative agricultural management practices on climate resilience, soil carbon sequestration, soil quality metrics, crop productions, and economic sustainability of cropland systems will be assessed in the Northern Great Plains (NGP) Region. The study will focus on the nexus of food production and water issues in the NGP region, made up of Montana, Wyoming, North Dakota, South Dakota, and Nebraska. The region encompasses 24% of all US cropland and is the leading agricultural region for a number of major commodities, e.g. barley, spring wheat, cattle, dry beans, sunflower, etc. Water is the major crop-limiting factor through much of the region, which is subject to extremes of both drought and flooding, both of which are projected to increase in frequency with continued climate change. Many of the soils in the region have been degraded and depleted of organic matter as a consequence of conventional practices such as annual crop-summer fallow rotations and intensive tillage. Regenerative agricultural practices, including high diversity cover cropping, no-till, agroforestry, rotation with perennial forage crops, and integrate livestock management have the capacity to increase soil organic matter content, improve water infiltration and water retention, and improve nutrient retention and recycling – all of which should increase system resilience to projected climate changes and contribute to CO2 drawdown. The project will include farm-level soil measurement and farm surveys to compare conventional vs. regenerative practices as well as regional-scale model-based assessments of the impacts of management system changes on soil carbon removal and sequestration, soil quality metrics, and agroecosystem sustainability. 10-15 farms will be selected across the region that have practiced regenerative farming for at least five years. Based on land management practices prior to regenerative adoption, nearby operations with similar climate, soil, topographic and land use histories that have continued conventional practices (which remain the dominant management systems of the region) will also be identified, for a total of 20-30 selected farms. Along with measurement of soil biogeochemical and physical properties, simulation modeling will utilize the DayCent process-based biogeochemical model and the COMET-Farm analysis platform. The socio-economic sustainability of regenerative agriculture, including limits to adoption and profitability, will be analyzed through farmer surveys and USDA data.
Advisor: Keith Paustian (Soil & Crop Sciences)
InTERFEWS Mentor: Meagan Schipanski (Soil & Crop Sciences)
Interdisciplinary Aspects
The project will include both on-farm field-based soil/plant measurement, laboratory analysis and soil organic matter fractionation and ecosystem modelling at local and regional scales. We plan to conduct farm surveys and collect farm-level economic data to assess economic impacts of practice adoption. Additionally, the project will evaluate agricultural systems located on indigenous reservation land. Indigenous people of the Northern Great Plains may be more susceptible to the impacts of climate change due to reliance on subsistence economies, high rates of poverty/ unemployment, and connection to native plants and water sources.
Systems Perspective
The project will take a systems approach looking at soil-plant-water-nutrient interactions at the farm/agroecosystem scale, informed by field measurements of soil responses to management changes, and by ecosystem simulation modeling. Additionally, the DPSIR systems analysis framework will be used to evaluate the challenges and solutions provided by regenerative agriculture.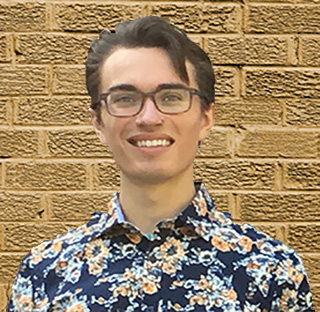 Chris Toy
Soil & Crop Sciences
Bio
Chris started his PhD program in the Department of Soil and Crop Sciences in August 2019, and became part of the first cohort of the InTERFEWS program in Fall 2019. His primary research interest is investigating how solar arrays impact the ecosystems they are sited in, and synthesizing the findings to inform better development and management of solar arrays. He is currently developing an observational study that will look at solar fields in the Northern Front Range region as well as an experiment that will manipulate seed mix and irrigation beneath a newly established solar array.
Previously, Chris worked at the OSU Wexner Medical center in the Nephrology Department studying the responses of the complement immune system in patients with lupus. Prior to that he earned a BS degree at The Ohio State University in Evolution and Ecology.
Research
Ecosystem Impacts of Solar Arrays on the Front Range
This project seeks to investigate the effects that ground-mounted solar photovoltaic (PV) arrays have on local ecosystems in the Northern Front Range region of Colorado. The existing body of research on this topic is still relatively small, however a number of studies suggest that the shelter provided by PV panels can actually create milder conditions that favor vegetative production in arid and semi-arid regions. These favorable microclimates can also give rise to other benefits through mechanisms such as dust flux reduction and passive panel cooling, both of which increase the efficiency of energy generation.
This project will utilize an observational design to compare numerous ground mounted solar PV arrays in the Front Range Region of Northern Colorado, a region with high potential for solar energy generation. Arrays will be characterized with variables including fixed panels vs single-axis tracking, mounting height, extent of grading, soil classification, and vegetation-management regime. Measured variables will include humidity, temperature, precipitation, panel temperature, soil water distribution, bulk density, soil carbon flux, biomass production, and vegetative community assembly. Control plots will be sited in nearby native plant communities to capture the local ecosystem sans solar PV arrays. In addition to the multi-site observational component, a controlled experiment will also be employed that manipulates seed mix and irrigation combinations in a complete block design.
The relevance of this project is to inform best practices for maintaining or augmenting ecosystem services in new and existing ground mounted solar PV systems.
Advisor: Meagan Schipanski (Soil & Crop Sciences)
InTERFEWS Mentor: Meagan Schipanski (Soil & Crop Sciences)
Interdisciplinary Aspects
The questions posed by this research are ecological in nature, however they are being posed in regard to a heavily engineered system in which human choices have large impacts on function. Additionally, the information gathered should help inform landscape scale planning.
Systems Perspective
This research is informed by a systems-based approach, which incorporates the fact that solar PV arrays do not exist outside of a relationship with the ecosystem matrix that contains them. This consideration is vital, as the need to quickly transition away from fossil fuel based energy sources in order to avert further climate disturbance has become clear. Therefore, as we expand solar energy capacity this research will help developers minimize detrimental impacts and potentially even expand the suite of ecosystem services generated by a given area of land.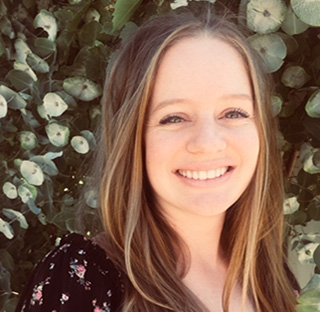 Annika Weber
Food Science & Human Nutrition
Bio
Annika Weber is currently a Food Science and Human Nutrition PhD student at Colorado State University and joined InTERFEWS in fall 2020 (cohort 2). She previously studied Biochemistry and Molecular Biology at California Lutheran University in Thousand Oaks, California, where she worked in an Analytical Environmental Chemistry Lab. During her undergraduate studies, she also received a grant from the NSF's International Research Experiences for Undergraduate Students where she worked in an Environmental and Biomedical Lab in Dublin, Ireland. She then went on to complete her master's degree in Human Nutrition at the University of Sheffield in Sheffield, England. Here, Annika carried out a human health project concerning heavy metal exposure through the consumption of crops grown on contaminated land. Annika's current research interests include disease mitigation through diet, gut microbiome research, and sustainable food solutions. She hopes to apply her doctoral research to an international public health agency where can continue working to find integrative food solutions to promote nutrition and health across the lifespan.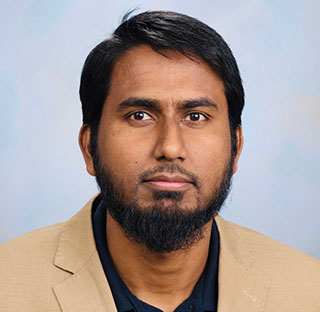 Bio
Azmal joined the Department of Sociology as a graduate student in the Fall of 2018, and became part of the first cohort of the InTERFEWS program in Fall 2019. He has a MA in Sociology with a Public Administration Minor. Azmal has almost completed his required coursework, and is not studying for his comprehensive exams and dissertation research. His research interests include: human dimensions of climate change, environmental justice, and the food-energy-water nexus. 
Research
Climate Change, Water and Food Security in Bangladesh
Bangladesh is a small but densely populated land of river. It belongs to the downstream side of the Ganges-Brahmaputra-Meghna (GBM) delta which, draining land from Bangladesh, India, China, Bhutan, and Nepal, is the largest in the world. River flows are considered as the lifelines for Bangladesh as irrigation-based agriculture is the main livelihood mechanism for the millions of its poor population. But global climate change and regional political economic structure made water a double-edged sword for Bangladesh. On the one hand, water salinity resulting from sea level rise makes agricultural (mainly rice) production in the Southern coastal region difficult. On the other hand, hegemonic role of India and China in controlling the water flows of the major shared rivers makes it difficult to manage water resources in the Northern part of the country. As both India and China built multiple dams on Ganges and Brahmaputra rivers respectively, Bangladesh gets little water during winter and excessive water during monsoon which has negative consequences for the agricultural production. Confronting this crisis, the government of Bangladesh adopted a century long Delta Plan 2100 where hydrology is considered as the center for all socio-economic development activities. Given these circumstances, the current project is designed to explore the impact of global climate change on water and food security in Bangladesh. In doing so, the role of regional political economic structure will also be assessed. This examination and assessment will play a significant role for Bangladesh to achieve the sustainable development goals (SDGs) by 2030.
Advisor: Michael Carolan (Sociology)
InTERFEWS Mentor: Stephanie Malin (Sociology)
Interdisciplinary Aspects
Environmental and natural resource sociology, climate change science, political economy, food and agriculture will be integrated in this project.
Systems Perspective
This project will incorporate a systems perspective synthesizing socio- political, natural, and food systems.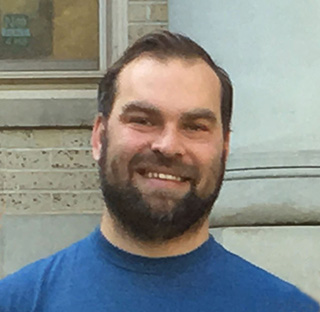 Curtis Kline
Political Science
Bio
Curtis joined the Department of Political Science as a graduate student and became part of the first cohort of the InTERFEWS program in the Fall of 2019. He received his B.A. in International Relations from United States International University, and his M.A. in International Human Rights from the University of Denver. His areas of focus are Environmental Politics, Comparative Politics and Political Theory. 
Curtis is currently working on his coursework in his major sub-fields of political science and preparing for the comprehensive exams. Once these are completed, he will then develop his dissertation research project, which he anticipates will happen in the Fall of 2021. Curtis' research interests include: social movements and contentious politics in Latin America; natural resource conflicts; territorial politics; environmental justice; and local democracy.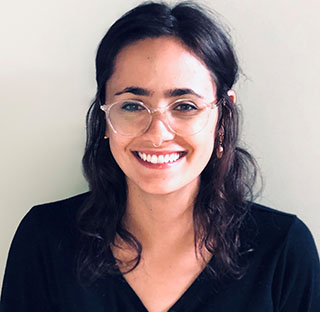 Julie Liebenguth
Political Science
Bio
Julie is a PhD candidate in the Department of Political Science, which she began in the Fall of 2018. Julie became part of the first cohort of the InTERFEWS program in Fall 2019. She earned her BA in Environmental Geoscience and International Relations from West Virginia University, and her MA in Political Science from Colorado State University. 
Her areas of focus are International Relations, Environmental Politics, and Political Theory. Her research focuses on the practical and theoretical implications of incorporating notions of security into global policy debates about environmental change.
Research
Security as a Source of Legitimacy in Global Environmental Governance: Exploring the Food-Energy-Water Nexus
Environmental security issues are proliferating within global policy debates about environmental change, sustainable development, and human well-being. Security concepts are known to legitimate certain people, groups, or organizations (actors) who are perceived as having the capacity to safeguard against external threats, which gives power to some actors while reducing it for others. Therefore, it is increasingly crucial to understand how the concept of security functions within environmental politics and how the logic of security influences the architecture of global environmental governance. This research explores the proliferation of environmental security narratives across the food-energy-water (FEW) nexus to examine the social implications of considering security alongside complex and systemic environmental issues. The FEW nexus is a particularly relevant political space for this project because actors working within and across the nexus frequently evoke the concept of security to discuss the risks and vulnerabilities driven by FEW issues. Moreover, solutions to FEW problems often incorporate multi-national corporations, which prompts important questions about the role of actors beyond the state in governing environmental security challenges and how they can or should utilize such power and authority. For instance, some FEW analyses propose that market-based actors are capable of effectively mitigating risks and insecurities posed by environmental challenges due to their cost-efficient practices, wealth of resources, and technological knowledge. In practice, such narratives that attribute security-keeping power to certain actors shape the way socio-ecological issues are governed by whom, for whom, and how. The purpose of this research is to explore the emerging link between non-state governance and environmental security, which is an increasingly prominent component of FEW systems thinking. A qualitative research method called critical discourse analysis is used to interpret and analyze claims made by multi-national corporations asserting their role in governing environmental security issues across food, energy, and water sectors. The ultimate goals of this project are to understand whether and how the concept of security impacts the distribution of power and authority in FEW systems and to elucidate the broader relationship between non-state governance and environmental security across FEW issues.
Advisor: Michele Betsill (Political Science)
InTERFEWS Mentor: Stephanie Malin (Sociology)
Interdisciplinary Aspects
This project incorporates concepts from global governance, political theory, economics, sociology, and infrastructure development.
Systems Perspective
This research embraces a systems perspective by exploring the connection between non-state governance and security across food, energy, and water sectors. It also explores the FEW systems perspective more broadly to illuminate its underlying political dynamics.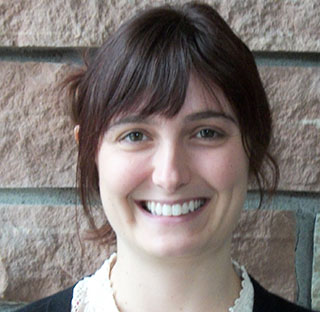 Elizabeth Ross
Psychology
Bio
Liz began the Applied Social and Health Psychology MS/PhD program in the fall of 2018 and joined the InTERFEWS program in the fall of 2020 (cohort 2). She received her B.A. in psychology from Oberlin College where she developed an interest in environmental psychology. She is currently working on completing the master's portion of her program and will begin her dissertation project in the fall of 2021. She is interested in the intersection between psychology and climate change, messaging, and using behavioral interventions to promote low-emission behaviors.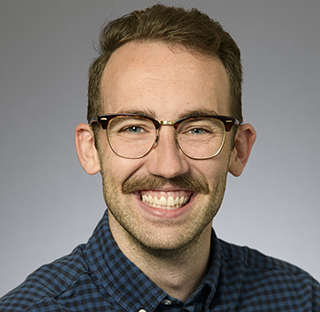 Joey Blumberg
Agricultural & Resource Economics
Bio
Joey started his PhD program in the Department of Agricultural and Resource Economics in Fall 2019, and became and InTERFEWS trainee in Fall 2020 (cohort 2). He previously earned his MS in Applied Economics and Policy Analysis and BS in Agribusiness Economics and Management from the University of Arizona. His research interests broadly lie in water demand, conservation, and the impact of climate change and growing populations on food-energy-water systems. He is currently examining drought impacts on irrigation technology adoption in Eastern Colorado.
The application period for the Fall 2022 cohort will open at the start of November 2021. Click the button below to review the documents and information you will need for your application!