2017 Sun Corridor Stakeholder Engagement Workshop
Understanding water challenges, success stories, and potential solutions
Date: April 13, 2017 – 

 9:30 am to 3 pm
Participants: Eighteen individuals, representing city and county government agencies, community based non-profits, and university-based research teams were in attendance.
Summary: The UWIN 2017 Sun Corridor Stakeholder Science Workshop convened stakeholders and researchers in a day of insightful and critically important discussion on the pathways to integrated water management in the region.  The meeting represented the 2nd regional UWIN engagement in the Sun Corridor.  After a brief update on the UWIN project, which included results from the first year of national stakeholder workshops, participants had a facilitated discussion. The discussion focused on potential pathways toward integrated urban water management and the complex nature of obstacles that stand in the way of progress toward solutions.  Over lunch, a presentation on funding and finance mechanisms for integrated water solutions was provided by UWIN researcher, Alex Maas.  Participants also learned about a unique project underway, which demonstrates regional partnership building in the Sun Corridor, from a member of the Sun Corridor Stakeholder Advisory Committee.   During the afternoon sessions, participants expanded upon the morning's conversation to include potential mechanisms to help the region overcome the barriers that they had identified.  Discussions allowed the group to collaboratively identify research questions and to improve researchers' understanding of the decision context.  The following table identifies the pathways that were discussed as well as the barriers and potential responses shared by stakeholders.
Pathways to integrated urban water management

Barriers

Responses to overcome barriers

1.      Improve usable science

●       Lacking vision of truly actionable science

To create truly actionable science, academics need to understand how decisions are made, including the factors motivating and constraining decision making
Academics don't know what practitioners want

●       Data needs/ data gaps exist

Lack of data on stormwater and how different impervious surfaces influence quantity and quality of stormwater
Lack of consistent methodology for collecting information on stormwater and lack of clarity on whose job it is to collect data
Need for larger scale efforts and more widespread data collection
Need for information on the science of distributed capture in upstream watershed
Questions remain about whether rainwater harvest displaces groundwater use

●       Collaboratively define research questions

●       Work to understand practitioners' values, motivations, decision making, drivers of decisions

●       The blueprint can roster the challenges practitioners are confronting

●       Models might help us predict storm water capture and communicate about it

2.      Expand stormwater harvesting/ manage stormwater as a resource

A major issue remains around whether utilities can get credits for capturing & recharging stormwater

Regulatory system is a paper system
Difficult to prove stormwater is renewable so difficult to credit
Crediting utilities for recharge is a challenge because of the diverse responsibilities, goals, and budgets of different agencies, (ex. surface water and groundwater are managed totally separately)

●       Remaining research questions/ data gaps

Can we capture stormwater and store it for outdoor use? What percentage of peak storm can be used? What fraction of precipitation would be available for stormwater capture and non-potable reuse?
Who owns the recharge water and who has rights to water? Who is willing to pay to treat and store water?
Who has rights to water when it gets stored?  Who had the rights before that is not getting the water now?
Who benefits? How can you monetize those benefits? What are the potential payoffs?

●       Legal rights context impedes harvesting of stormwater

●       High costs of treating stormwater for utilities  

●       Models/ tools that can produce information on stormwater which can be communicated

●       Recharge credits associated with retention basins…if AMAs can capture incidental recharge, they can get there.

●       Science to support adaptation of system of recharge credits

●       Could climate models or other scientific tools that project future conditions play a role?

●       How can you protect jurisdictions against losses from legal and political uncertainties associated with rights to runoff? Is it water rights or credit that stops folks from harvesting.

●       What types of information framing might work across agencies?

●       Minimizing health impacts might create rationale for putting stormwater into aquifer

3.      Communication and outreach improvement

●       The public gets a lot of information, but it may not be correct information

●       Behavioral component to GI and other approaches is a challenge, communication strategies are needed

●       Perception of landscapes and human behavior

●       Events focused on water education (ex: Apache Junction, in partnership with U of A, hosts a Water Festival each year)

4.      Move forward on Green infrastructure and LID projects

●       The benefits of GI/ LID projects are difficult to measure as they might acrue to different agencies, making it hard to justify expenditures

●       Questions about impacts of GI remain, for example, folks questioned relationship between small-scale rainwater capture projects and resulting changes in landscaping and how these changes feedback to water demand in different seasons (ex. Rain comes during peak rainy season, folks landscape to higher water availability, then use more water during dry season by irrigating)

●       Can't show water savings from rainwater harvesting yet in Tucson

●       Study whether or not stormwater mgmt. actually reduces peak water use/ provide better understanding of GI offsets to summer water use

●       Study what fraction of water in small scale GI projects/ rainwater harvesting makes it to aquifer

5.      Integrate/ remove silos in water management

●       Integration across silos is needed to move ahead on many of the other pathways listed (stormwater recharge, GI/LID projects, etc.)

(ex: The City of Tucson, Tucson Water Department operates and maintains the potable and reclaimed water systems; (2) Pima County Regional Wastewater Reclamation Department (RWRD) operates and maintains a regional wastewater conveyance and treatment system that generates the effluent used in the City of Tucson's reclaimed system; and (3) The Pima County Regional Flood Control District (RFCD) manages stormwater resources)

●       Policy and political aspects to breaking down barriers

●       Development community pushback against integration

●       Economic disincentives to integration

●       Section 208 of Clean Water act might provide opportunity for coordination

●       PAG is a regional coordinator, PAG is coordinating bonds; RTA (sales tax bond) provides an opportunity to coordinate across silos

●       Policies that allow partnerships & funding across agencies

●       Cross-jurisdictional regional coordinator for sw/ww

●       Revisiting long-standing policies, bring co-beneficiaries together through innovative funding mechanisms

6.      Review water rights and legal issues around who owns what water
●       Capturing stormwater for recharge: can't get credits because of water rights issues. What are the water rights implications?

●       Surface basins have never been adjudicated, if you restrain flow from a rancher downstream, it could be adjudicated

●       Many unanswered questions, legal cases go on forever or don't get to court, there are incentives to keep them out of court

●       Economic barriers also exist within complicated rights issues, ex. What if you invest in harvesting, but then it gets adjudicated?

●       Water rights and different perspectives in different regions about rights

●       Part of solution to mitigating risk would be to negotiate or contract with downstream users.

 

7.      Forge regional scale partnerships (akin to "the breakfast club")
·        Relationships take time to build and maintain
●       Story to save the Tucson Aquifer (Ex. Directors all work together to maximize resources)

●       What makes folks act beyond the mandate? Concrete material benefits, organically coming together because of relationships, bottom up social networks instead of top down mandates work

8.      Expand projects with co-benefits

●       Paper rights credit system in the State of Arizona

●       Disincentive in state law

●       Issue of burdening constituents with costs/inconveniences and then losing out on the environmental benefit.  Why do we have to pay millions of dollars more to inject water?

●       Limited education on co-benefits.

●       Lack of knowledge on economic benefit of ecosystem improvements, property value impacts, the avoided cost of infrastructure development/ maintenance, these values are closer to arguments engineers use so they should be used to further arguments

●       Co-benefits: hard to finance especially across silos.  (Ex. Why would storm water management agency entirely fund something that benefits another agency?)

●       Ratepayers feel that utility is gifting to all when they are the ones paying. Who pays/ who benefits doesn't match, how have those who have figured it out worked it out?

●       Uncertainty about co-benefits

●       Ecosystem services, as part of the triple bottom line, should be looked at in management plans

●       Once you construct a facility, you are on the hook for a lifetime to maintain and pay for that.  Removing operations and maintenance costs by reducing infrastructure is a huge benefit.  How can this be better represented in project proposals?

●       Ability to talk at highest level of elected officials about reduced costs across multiple agencies speaks very well

●       Find co-benefits, measure co-benefits, and prove benefits to justify pricing

●       Communicate with groups like Governor's Task force, those who have power

●       Show ROI

●       Cost-benefit studies/ ENVISION

●       Simplify messaging to elected officials

9.      Focus on program implementation
●       Funding availability limited

●       Inability to show line item budget impacts on individual agency budgets

●       Fractured system of accruing benefits across systems vs. costs

●       The institutions don't support One Water Approaches in a number of ways: benefits, payments, regulations

●       Innovative funding mechanisms (Ex. Conserve to enhance program on Tucson Water Bill (Pima Association of Governments) PAG is fiscal agent, utilities put on bills)
Meeting Goals
This workshop will focus on institutional (technical, policy, financial, human) pathways that foster transition toward coordinated, aligned, and integrated management of urban water systems. Perspectives, suggestions, and feedback from meeting participants will inform and shape the UWIN National Blueprint. Meeting activities will advance understanding of factors that influence coordinated and aligned actions and decision-making. Information will be synthesized and summarized to help UWIN researchers create actionable science in subsequent years. The meeting will also foster networking/relationship-building between participants within the Sun Corridor, across the Nation, and with the UWIN research team.
Agenda
9:30 am – 10:00 am
Continental Breakfast

Pre-workshop survey

10:00 am – 10:30 am
Welcome, Introductions, Year One Review

Mike Sukop

Welcome, agenda overview, UWIN and stakeholder self-introductions, what we heard from you last year

Mazdak Arabi

Description of Integrated Urban Water Management approaches with focus on institutional processes, description of blueprint and why one is needed, models of success (3 case studies)

10:30 am – 12:00 pm
Session #1:  Futures, Pathways, and Institutional Policy Innovations for Coordinated, Aligned, and Integrated management of Urban Water Systems

Focus: Explore potential IUWM futures and pathways, identifying attributes (social, technological, economic, environmental) of each, informing the Blueprint; select 3 priority pathways/solutions for unpacking in Session #3

12:00 pm – 1:30 pm
Lunch

Session #2: "Integrated Water Management: Funding, Financing, and the Future"

Alex Maas

Focus: Current water system funding and financing, alternative models, and case studies illustrating strategies for funding and financing IUWM

1:30 pm – 2:30 pm
Session #3:  Futures, Pathways, and Institutional Policy Innovations for Coordinated, Aligned, and Integrated management of Urban Water Systems (Continued)

Focus: Building on Session #1 and lunch presentation, explore highest priority futures and pathways in terms of targets, goals, metrics, and barriers to implementation and potential responses to overcome them

2:30 pm – 3:00 pm
Workshop Closing Discussion, Synthesis

Mike Sukop
Parking Instructions
Fulton Parking Garage – 711 S. College Ave Tempe, AZ 85281
Parking spaces have been reserved in the ASU Fulton Center Parking Structure.  Please enter using the 7th St and College Ave entrance to meet the on-site parking attendant who will direct you to your reserved space.  You will receive parking validation when you enter the workshop.
From Rural Road and University Drive

Head west on University Drive
Turn right (north) on College Avenue
Take your first right into the structure
From Mill Avenue and University Drive

Head east on University Drive
Turn left (north) on College Avenue
Take your first right into the structure
Workshop Location
ASU College Avenue Commons – Devil's Oasis, 660 S. College Avenue Tempe, AZ 85281
The Devil's Oasis is located on the second floor of the College Ave Commons.  The Commons are located directly across the street from Fulton parking structure on the corner of College Ave and 7th Street.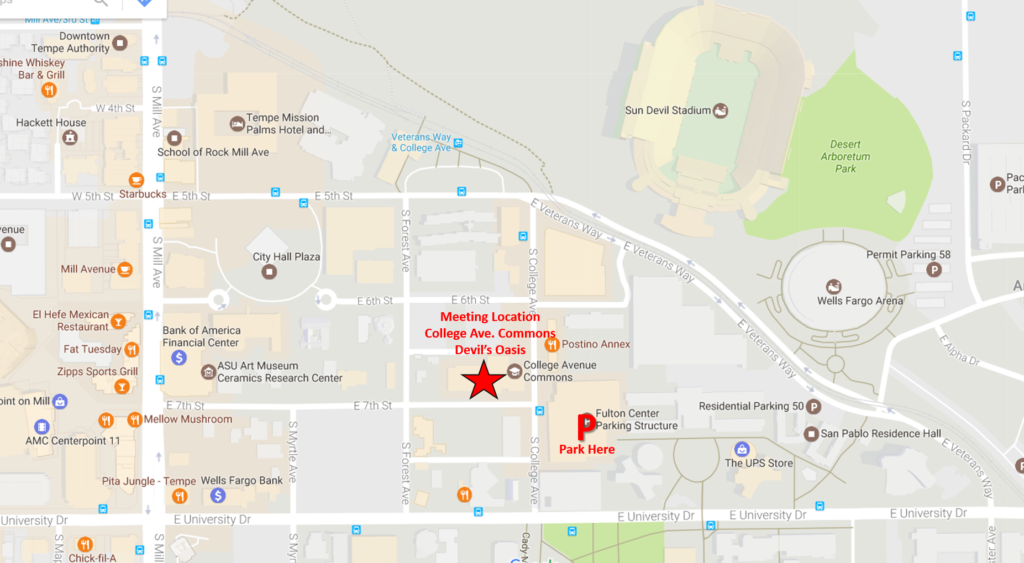 HOT BREAKFAST BUFFET
Aged cheddar and chive frittata vg • gf
Breakfast breads & muffins v
Maple sausage
Hickory smoked bacon
Breakfast potatoes v • vg • gf
Seasonal market fruits & berries v • vg • gf
Coffee, Hot Tea, Orange Juice and Iced Water
SOUTHWESTERN LUNCH BUFFET
Carne Asada – tortillas, verde salsa and roasted tomato salsa
Potato Enchiladas – v potato, black beans, grilled vegetables,  jack cheese, and verde salsa
Citrus and Jicama Salad – v • vg • gf mixed baby greens, citrus supremes, sliced jicama and sweet-and-spicy vinaigrette
Green Chile Rice – v • vg • gf jasmine rice, cilantro and roasted green chile
Charro Beans – v • vg • gf garlic, onion and tomato
Fresh Brewed iced tea and lemonade, coffee, hot tea and iced water
AFTERNOON SNACK
Crudite – v • gf farm-fresh vegetables and ranch dressing
Gourmet Cookies – v • vg: rocky road, mexican hot chocolate, peanut butter, dried cranberry and almond