UWIN Citizen Science Project
Off the Roof
What's in Your Rain Barrel?
Sybil Sharvelle, PhD
Colorado State University
Given the recent, tragic events such as the lead poisoning of Flint residents or Cape Town running out of water many homeowners have begun using rain barrels to collect rainwater falling on their property. This harvested rainwater, also known as "roof runoff", is commonly used for irrigation of lawns, landscaping, garden beds or indoor plants, decreasing the demand from local drinking water supplies.
However, little is known about the microbial quality of the water or potential pathogens captur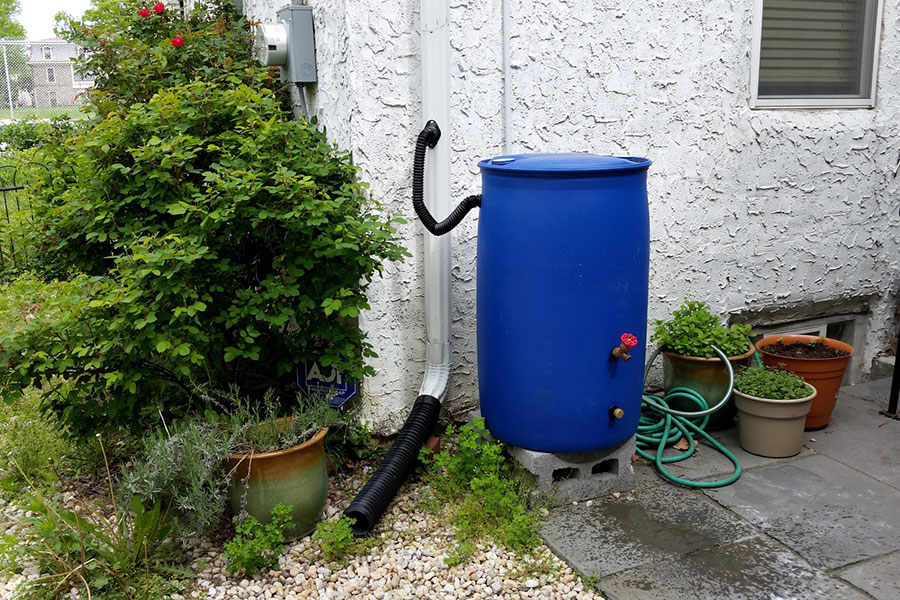 ed in roof runoff. UWIN is undertaking a new citizen science project to understand more about harvested rainwater.
Off the Roof is a citizen science project developed to provide data to UWIN researchers to better understand what pathogens may reside in roof runoff collected in rain barrels. "We've realized a real limitation in the use of roof runoff as an alternative water source in urban areas is the lack of data on the microbial quality of the water," says Dr. Sybil Sharvelle, the project's primary investigator and lead of UWIN Project B1-1b which examines use of alternative water sources. "This results in ambiguous regulatory guidelines for how the water needs to be treated for various end uses."
Participants in Off the Roof will install rain barrels to their downspouts to collect water from precipitation events at three different times of year and submit samples to the EPA for microbial examination.
Learn more about Off the Roof here or follow updates on their Facebook and Twitter account.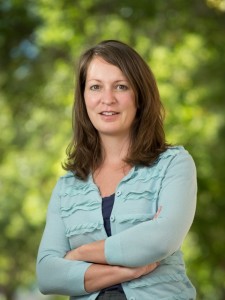 Sybil Sharvelle – Principal Investigator
Associate Professor
Civil and Environmental Engineering
Colorado State University
Voice: (970) 491-6081
Email: sybil.sharvelle@colostate.edu
Dr. Sharvelle has nine years of experience working on graywater projects. Her graduate studies were funded by NASA to optimize biological waste processing systems that would treat graywater with the end goal of potable reuse. The waste treatment concept employed entailed separate source collection and treatment of graywater, urine, and fecal material. Dr. Sharvelle's experience in closed loop recycling of resources is very valuable for implementation of sustainable development concepts for urban water management. Dr. Sharvelle is currently working on sustainable urban water management including graywater reuse, reclaimed water reuse, development of models to estimate water savings associated with urban water conservation practices. Dr. Sharvelle also has several years of experience working on waste conversion to methane through anaerobic digestion.
Alan Berkowitz
UWIN Director of Education
Plant Ecologist
Cary Institute of Ecosystem Studies
Dr. Berkowitz's research interests include defining and measuring ecological and ecosystem literacy and their role in environmental citizenship; understanding how ecology is best taught and learned; exploring the factors that influence interest in ecology and in careers in academia; and the ecology of schoolyards and urban ecosystems. He is the Head of Education at the Cary Institute, is the Education Team Leader for the Baltimore Ecosystem Study, and is a co-director of the Environmental Science Literacy Project.
Mike Sukop
UWIN Director for Outreach
Professor, Dept. of Earth and Environment
Florida International University
Dr. Mike Sukop is the lead PI of the NSF/NIFA supported South Florida Water, Sustainability, and Climate Project. In addition, Dr. Sukop serves as the liaison between the Florida Climate Institute and the Southeast Florida Regional Climate Compact, where he works to bring research expertise to bear on South Florida challenges.
Claire Welty
UWIN Director for Research
Professor, Chemical, Biochemical and Environmental Engineering
University of Maryland, Baltimore County
Dr. Claire Welty is the Director for the Center for Urban Environmental Research and Education at the University of Maryland, Baltimore County. Her research includes Urban hydrology; Contributing to fundamental understanding of transport processes in aquifers; Mathematical modeling of groundwater flow and transport in porous and fractured media; Application of stochastic methods to interpreting groundwater problems; Design and analysis of field-scale hydraulic and tracer tests.
Tom Meixner
Professor
Hydrology and Water Resources
University of Arizona
Expertise Watershed hydrology and biogeochemistry hydrologic controls on water quality, GIS, remote sensing, hydrochemical modeling, atmospheric chemistry, aqueous geochemistry, water quality modeling, sensitivity analysis, automatic parameter estimation, semi-arid hydrology, riparian sustainability, climate change impacts on water resources, and multi-criteria analysis.
Jumana Alja'fari
Graduate Student
Colorado State University
U.S. Environmental Protection Agency
---
Jay Garland
Division Director, National Exposure Research Laboratory
Area of Expertise: Dr. Garland worked for over 20 years on NASA's efforts to develop regenerative, closed-loop life support systems, including testing of recycling systems based on plants and microorganisms, before joining EPA's Office of Research and Development in 2011. He has authored over 100 scientific papers on various topics, including methods for microbial community analysis, the ecology of plant-associated microorganisms and the recycling of solid and liquid wastes in plant growth systems. His work is committed to the development of sustainable systems using sound ecological principles and innovative technology
Nichole Brinkman
Biologist, National Exposure Research Laboratory
Area of Expertise: My current research focuses on two major topic areas. The first research area involves describing and evaluating the microbial communities in our aquatic resources through EPA's nationwide surveys. This research will facilitate understanding of the microbial processes in our watersheds and could aid in assessing water quality, aquatic condition and watershed integrity. My other research area is centered on the practice of decentralized, on-site water reuse for non-potable purposes. This work aims to evaluate pathogen densities in a variety of operational systems to provide data to better inform quantitative microbial risk assessment models and allow policy makers to institute practical, but safe treatment requirements for on-site systems. In addition, fast and reliable monitoring of recycled water is being investigated through the use of real-time, online water quality sensors and by investigating the microbial communities in on-site systems to identify abundant members that could be used as
Scott Keely
Biologist, National Exposure Research Laboratory
Area of Expertise: Next-generation DNA/RNA deep sequencing and molecular detection technologies focusing on human and environmental microbiomes as well as human microbial pathogens (e.g., Cryptosporidium species, Giardia species, Toxoplasma gondii, Pneumocystis species and respiratory/enteric viruses). Research topics include US EPA National Aquatic Resource Surveys (NARS) of rivers and streams microbiomes; development and application of novel water reuse treatment bacteria/bacteriophage indicators; 16S and metagenomic analysis of bacteria present in water reuse systems; single nucleotide polymorphism (SNP) analysis of Cryptosporidium species; single-cell genomics; data science and computational biology.
Michael Jahne
Environmental Engineer, National Exposure Research Laboratory
Area of Expertise: Quantitative microbial risk assessment. Research interests include the management of human and agricultural wastes, water reuse, and community exposures among vulnerable populations
Colorado State University
---
Greg Newman
Research Scientist, Natural Resource Ecology Laboratory (NREL)
I am a research scientist, ecologist, and informatics specialist at the Natural Resource Ecology Laboratory (NREL) at Colorado State University (CSU). I received my PhD from CSU in citizen science, community-based monitoring, and ecological informatics. My current research focuses on designing and evaluating the effectiveness of cyber-infrastructure support systems for citizen science programs. My research interests include evaluating various citizen science program models, understanding the socio-ecological benefits of engaging the public in scientific research, designing and evaluating data management systems for socio-ecological research, assessing the value of local and traditional ecological knowledge for conservation and education outcomes, and developing spatial-temporal decision support systems.
External Advisory Team
---
Rebecca Jordan
Rutgers University
Dr. Rebecca Jordan received her M.Sc. and Ph.D. in Organismic and Evolutionary Biology at the University of Massachusetts Amherst under the advisement of Francis Juanes. Her dissertation research investigated the visually guided mating behavior of Lake Malawi cichlid fish. Rebecca took a post-doctoral position as a Science and Technology Council Fellow with James Gould at Princeton University. There she expanded her interests to animal learning in general and incorporated work with undergraduate science learning. After two years at Princeton, Rebecca took a Visiting Assistant Professor position at Elizabeth City State University as part of a partnership with the University of North Carolina at Chapel Hill. In Elizabeth City, Rebecca continued her work with fishes in the capacity of providing undergraduates with research experience. She focused mainly on poeciliids. Also in Elizabeth City, Rebecca broadened her study of science learning to incorporate informal audiences. Rebecca is currently an Associate Professor of Environmental Education and Citizen Science in the Departments of Ecology, Evolution, and Natural Resources and Human Ecology at Rutgers University New Brunswick. Here she works with graduate students and undergraduates in the study of behavior in Lake Malawi cichlids or in the study of science learning in grades 6-Life learners. As Director of the Program in Science Learning, however, she he devotes most of her research effort to investigating public learning of science
Robert Dunn
North Carolina State University
Most of the living world remains poorly or totally unknown. In my lab we study the species around us in our everyday lives, species we tend to think of us as well known. Most of those species are not well known and so there are many things to discover in your backyard, in your bedroom, or even on your roommate. Some days I work to study these species myself, bending down to figure out whether the fungus on my neighbor's foot is a new species. More often I spent my time working with students and other researchers to help along their own discoveries. I also write about the world around us, which is a chance to share the stories of the scientists who have devoted their lives to understanding species, organs, cells, genes or ecosystems that influence us every day. In my building alone I am surrounded by biologists who study prairie voles, rare butterflies, fish ovaries, dinosaurs with long, long, claws, the decisions we make when threatened with death, alcoholic fruitflies, fungus farming beetles, and much, much more. It is a good job, this thing called science, silly at times, serious at others, but nearly always good.
Alycia Crall
Project Evaluator
Alycia received her bachelor degrees in Environmental Health Science and Ecology at the University of Georgia (2000), her master's degree in Ecology at Colorado State University (2003), and her PhD in Environmental Studies at the University of Wisconsin-Madison (2010). Her research interests include citizen science, socio-ecological systems, informal science education, and program evaluation.
Journal Articles
Lynn, S. J., N. Kaplan, S. Newman, R. Scarpino, and G. Newman. 2019. Designing a Platform for Ethical Citizen Science: A Case Study of CitSci.org. Citizen Science: Theory and Practice, 4(1), 14. DOI: http://doi.org/10.5334/cstp.227
In the News
Webinars