Engagement and Broadening Participation
Engagement and Broadening Participation are integral parts of UWIN.  The engagement goals of the network are to: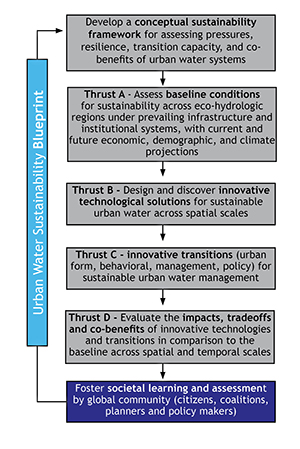 Engage stakeholders to foster societal learning and assessments that guide the research programs of UWIN
Facilitate sharing information and experiences on sustainable management of urban water systems among research groups, regional stakeholders, and the global community
Vet the Urban Water Sustainability Blueprint against desires, priorities, preferences, and concerns of stakeholders from various regions in the U.S
Stakeholder-centered research is critical to the development of science and technologies that reduce pressures, enhance resilience, maximize cobenefits and foster transition. Working through existing local networks identified by our project on-site experts, UWIN will form 6-8 member stakeholder advisory committees in each region composed of representatives of city, county, and state governments, citizens, coalitions, nonprofits, and businesses. In collaboration with the regional stakeholder committees, we will convene annual meetings including approximately 25 participants from various socioeconomic sectors in each study region aimed at enabling stakeholder-based iterative research design, network building, communication, and facilitation skills training for graduate students and researchers supported through the network. Over the five-year period, we anticipate engaging about 500 stakeholders from the six study regions.
Objectives
The objectives of the engagement activities are to develop a shared set of goals based on stakeholders' needs and researchers' expertise; to build understanding of water sustainability decisions in testbed cities; to work toward developing actionable science to share with stakeholders across cities; to collaboratively develop best management practices for sustainable urban water management; and to foster purposeful expansion of UWIN to new stakeholder/researcher teams.

Approach
Early interactions will emphasize learning about local systems and participant expectations, which will inform our research and our understanding of the diverse regional decision contexts. The objectives of subsequent interactions will include sharing results and vetting the national blueprint for the U-WIN sustainability framework to find out what the key issues are and what works and does not work in particular stakeholder regions. This multi-city approach will yield critical learning for the project team (with special emphasis on graduate students) to be made accessible to stakeholder groups in other regions and thereby foster cross-fertilization across local networks.