2016 Arizona Sun-Corridor Stakeholder Engagement Workshop
Understanding water challenges, success stories, and potential solutions
Date: 9:00a – 4:00p, 4/11/2016
Location:

Archon Seminar Room, College of Architecture, Planning and Landscape Architecture, University of Arizona
Twenty six individuals attended the meeting representing city and county governments, research institutes, university-based research teams, and community based non-profits.
After a brief introduction to the Urban Water Innovations Network (UWIN) by UWIN team leaders, stakeholders shared their views on the current state of the regional water system in the Sun Corridor. Specifically, views on the strengths of the water system and its governance, threats to the system, problems in achieving sustainability, potential solutions to these problems and barriers to solution implementation, and success stories were elicited. The resulting discussion was insightful and nuanced, providing the research team with a much deeper understanding of the challenges associated with managing the water system. There was a presentation by Thomas Meixner (U of A) who provided an example of faculty work supported by the UWIN project. The subsequent activity was geared toward generating ideas for aligning UWIN research efforts with needs of regional stakeholders. Participants provided feedback on the types of research and information products that would be most useful to their decision environments. Finally, there was discussion about how to expand the network and the value of the network as a leading voice for rational water policies. More details on information shared during the session are included in the sections below.
Concerns
Climate change, and the associated changes in timing and frequency of precipitation events, was described as a major threat to the system.Concerns about groundwater withdrawals and water quality in aquifers were presented as were issues of demand management. Land development patterns and management of demand for water in the future were discussed as potential threats to water availability in the future. Problems specific to utilities were also raised including funding concerns, specifically costs of infrastructure maintenance and development, energy reliability, and public perception of water supply and utilities.
Success stories
Meeting participants shared many examples of successes including those that can be categorized as management and planning as well as examples of physical projects with positive outcomes. From a management perspective, municipal support for state agencies, The Governor's Council, multi-state collaborations, watershed management groups (especially in rural areas), and local leadership were seen as strengths and successes. Other successes include riparian restoration in flood control basins, using ecosystem services for stormwater management, runoff capture and flood control, and local rainwater harvesting.  Advances including nutrient recovery in wastewater treatment in urban areas, closing the loop on direct potable reuse, use of effluent for restoration, and smart metering were also discussed as examples of regional success stories.
Barriers or Impediments
Barriers or impediments to implementing sustainable water management solutions generally fell into four broad areas, leadership and politics, regulatory environment, funding limitations, and learning/education.
Stakeholders described shifting and/or lacking political will, policy loopholes, and lack of strong leadership or support at state scale as impediments to sustainable water solutions. Issues including the difficulty to use reclaimed water and regulatory limitations on reclaimed water were raised as well. More funding for water utilities and research groups is needed as is more information on ROI from conservation efforts. Limited learning and sharing of ideas, limited understanding, lack of knowledge about water resources in state legislature, and lack of participation in education programs were all discussed as well.
Information needs
There were many great ideas that were shared when participants were asked about ways that UWIN research could benefit the region. A sampling of these ideas is included here.
Municipalities need to know how to get the biggest bang for their buck or the sustainability investments with the largest ROIs.
Let us know how we are doing as a region and at the community scale in terms of sustainability.
Research the process of developing and moving ahead with a local conservation committee, using Goodyear as an example.
What are the tradeoffs between quality of life and water use?
Smaller utilities with limited capacity need support with the development of meaningful metrics for measuring things that can't currently be measured. An example is water loss.
How can we communicate the cost structure of delivering water?
Conservation has some adverse effects or unintended consequences.
How might we protect water rights under conservation?
How can we get communities to continue to reinvest in utilities and to maintain public support for projects that aren't 'sexy'?
How do you get the leadership disconnect (between economic development and capacity) fixed? We need to develop water smart regional economic strategies.
Share information we are collecting on equity and justice
The purpose of the 2016 Sun Corridor Stakeholder Meeting is to jump start the UWIN network building activities that aim to connect people concerned with urban water sustainability. During the meeting, we will introduce the UWIN project, work to identify concerns, needs, and potential urban water sustainability solutions within the Sun Corridor region, and collectively think about how UWIN research can assist. Input gathered during the meeting will be used to guide national­ level project efforts, which include the development of an urban water sustainability framework, the UWIN Blueprint.
Meeting Agenda
Continental Breakfast
Pre-workshop survey
Welcome and Introduction

Gary Pivo: welcome, introductions, agenda overview and purposes
All: self­ introductions
Mike: national engagement project overview
Network Activity 1
Facilitated brainstorming: KEY STRENGTHS of the region's water, wastewater, and stormwater systems; MOST SERIOUS THREATS to those systems; any major economic, social, or ecological problems caused by those systems; key efforts or success underway to address threats and impacts; possible solutions not being widely tried that deserve a closer look; key impediments to implementing solutions.
Break and Purposeful Conversation: Find two people you don't know and share your water interests, questions, or concerns
Network Activity 2

Discuss, Refine, Categorize, and Assess Ideas
UWIN Overview Presentation
Mazda Arabi: Introduction to UWIN project and discussion of appropriate regional boundaries and time frames
Lunch in the Underwood Family Sonoran Landscape Laboratory
UWIN Research Presentation:
The local UWIN technical team – Professor Tom Meixner: Rainwater Harvesting Research
Network Activity 3:
Facilitated discussion: What are your greatest needs for assistance and how might UWIN address them? For example, linking with UWIN experts, help you learn from peers via various communication avenues, inform our research activities, data needed to help you implement actions toward desired water targets.
Network Activity 4:
Social / professional Network Expansion Activity and how the UWIN network might be used to support the region's needs and goals
BREAK
Closing discussion:
Next steps and how to stay in touch and share information.
Post­ workshop survey
Starting the conversation about challenges to urban water systems in Arizona.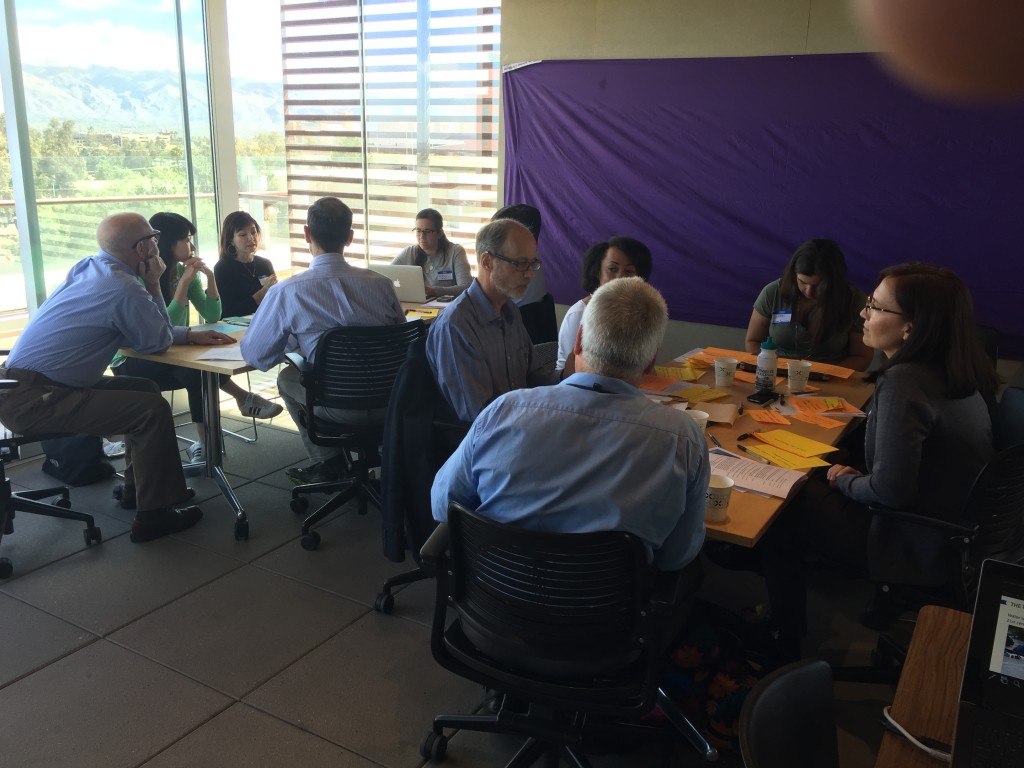 Learning about urban water challenges and solutions from diverse perspectives.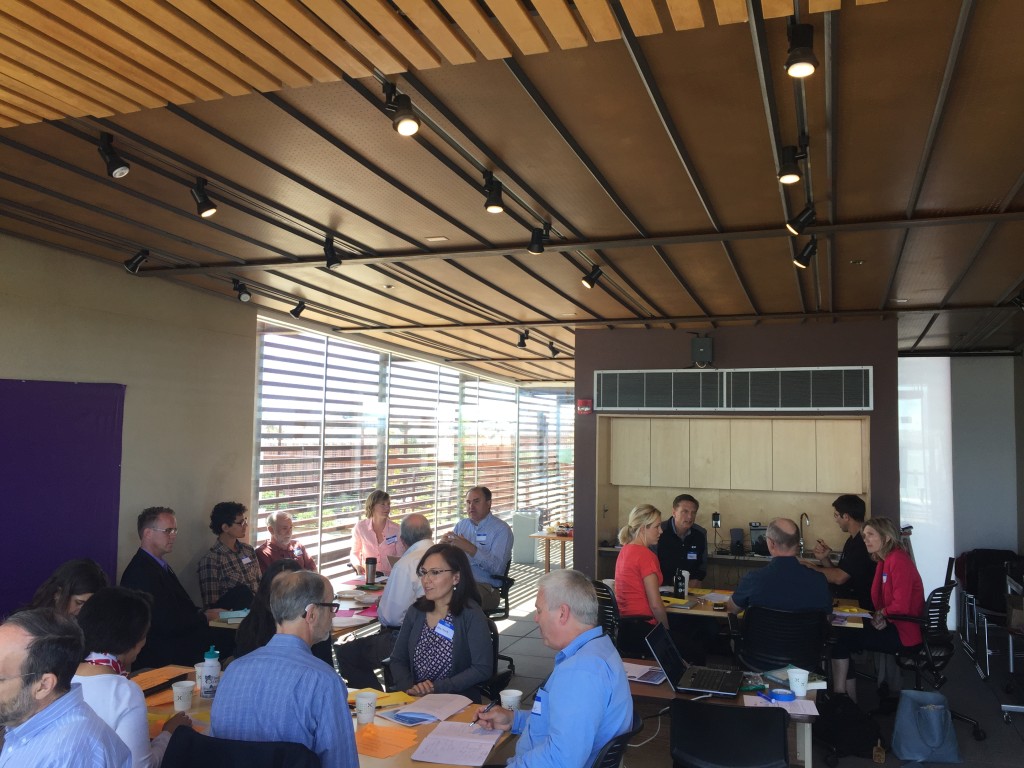 Sharing ideas for key questions for research and innovation.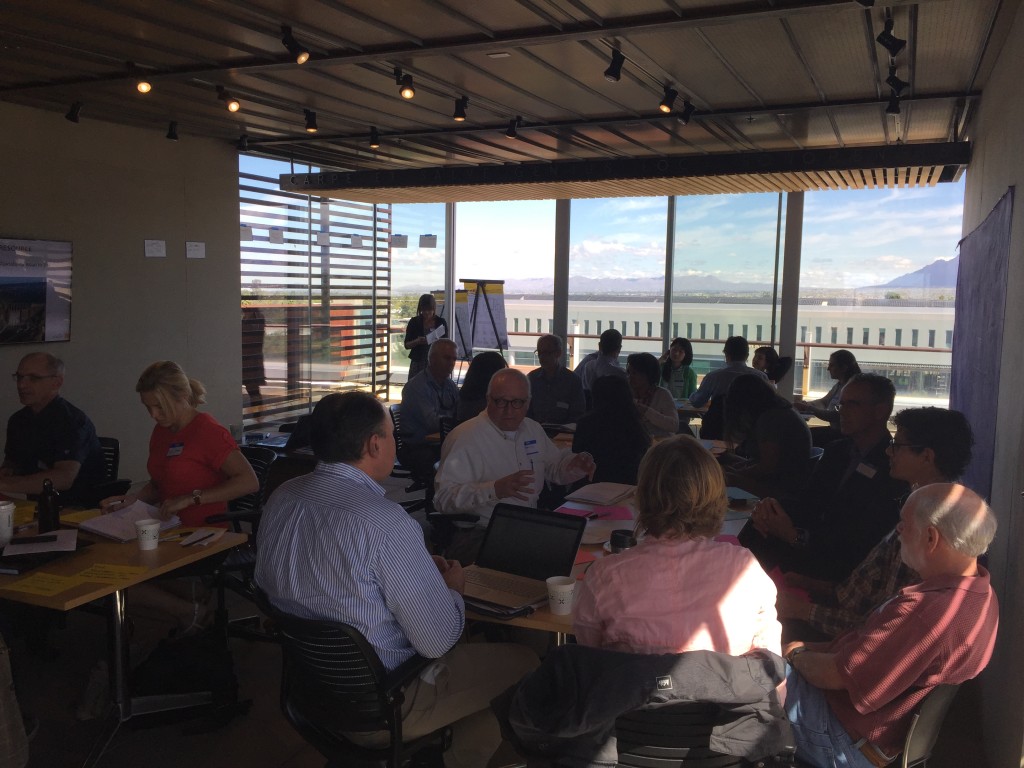 Bringing it all together by organizing inputs from various participants.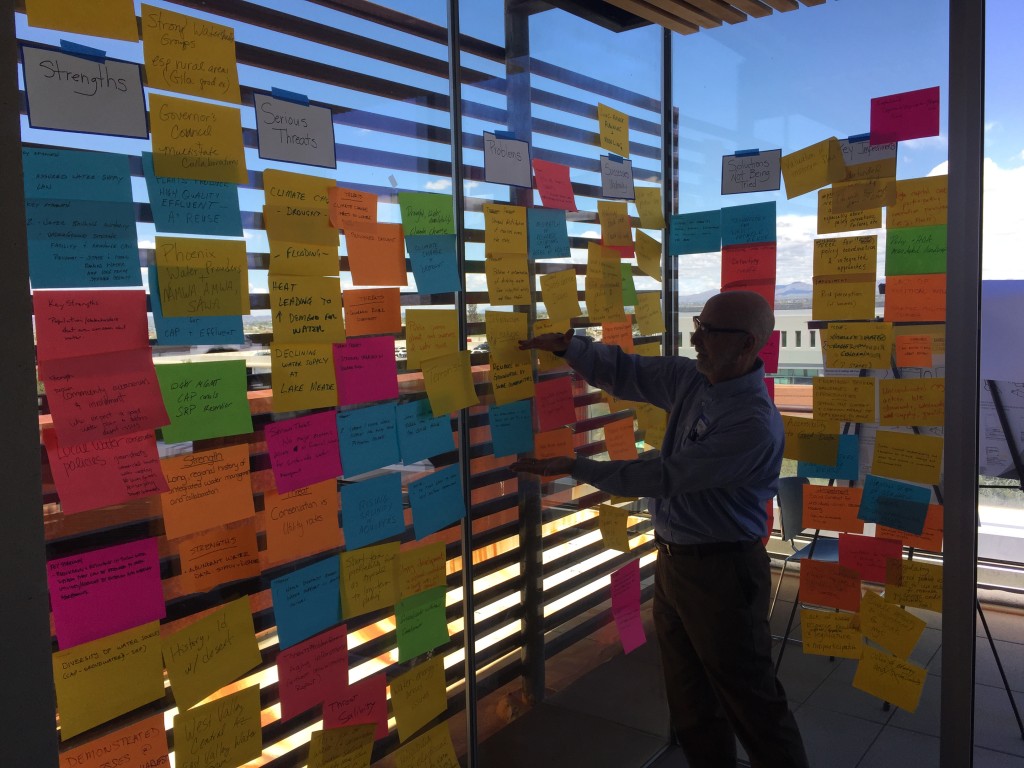 Tom Meixner presenting an example of UWIN research on green infrastructure.