Thrust C
Innovative transitions for sustainable urban water management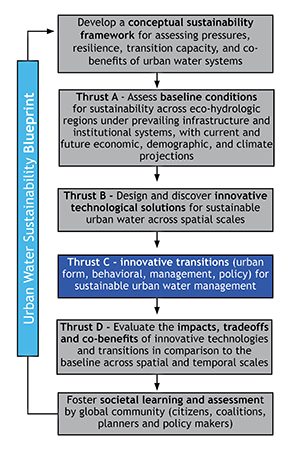 Thrust C projects explore how cities can intentionally foster the widespread adoption of infrastructure, development patterns, consumer behaviors, and management practices that advance sustainable water management.  Existing approaches are persistent and path-dependent, locked into established protocols, rules and cultures.  Overcoming barriers requires insight into the social and behavioral systems that govern change because the barriers are more socio-institutional than technical.
Components of the system include the actors, preferences, policies, institutions and other elements that shape outcomes at multiple scales from building to metro region levels.
A particular emphasis of the projects in Thrust C is understanding best practices for integration of urban planning with urban water management.